On Dec 6th 2020, the Gathr platform hosted its first all-day virtual event. The Birth to Postpartum Expo was Hosted by Erin Carroll-Manning- Owner of Gentle Giraffes Newborn Care & Family Services.
The event included speakers, videos, and panelists including acupuncturists, pediatricians, IBCLC's, pediatric dentists, birth doulas, and pelvic PTs. Many of the participants from the event are now signed up as Talent on the Gathr platform. Check out their links below.
Erin talks about her experience using the Gathr platform.

Q: What was your objective for the Expo?

Erin: My objective for the Gentle Giraffes Wellness Expo was to inform families there is a lot of support for them. My main goal was for women and families to enjoy their pregnancy and the 4th trimester.

Q: Did you originally conceive your Expo to be an in person event?
Erin: Yes. I originally came up with this idea three years ago. In Jan 2020, I was like "ok, I am ready to do it". We were going to do it in person, I had a venue all picked out. And then COVID hit and I was like I don't know what I am going to do now? I thought, I might as well take a shot at doing something online and converting it to a virtual event.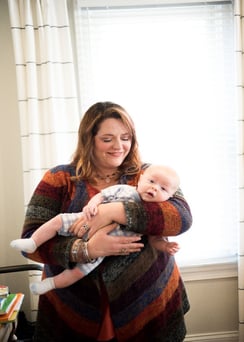 This was my first event and I didn't know how to do it. I needed a platform to be able to host it. I knew I needed help with tech -- that is not my strong suit --who had good organizational skills, since there were so many moving parts.
Q: On your own you were probably going to patch together, zoom and Eventbrite. Can you talk about that?
A: I was originally going to use Eventbrite to sell tickets and zoom as my platform but I was having trouble wrapping my head around how I was going to connect everything? How was I going to splice the different speakers together, the videos, etc? How was I going to do that? And still be the host of the show and be able to give all my energy to the speakers and field question? It gave me a lot of anxiety and probably why I put it off so long to actually fully organize it.
Gathr took my event to a level that I never thought possible. On my own, it probably would have been mediocre. Gathr made it high end.
Q: What was the purpose of your Expo?

ERIN: The purpose is to educate families that there is all sorts of support out there for whatever they need and want. They do not have to navigate this experience alone. Last there are people who can make your parenthood journey that much more enjoyable, who support you, who listen to you and who can guide you into avenues that can lower or eliminate hurdles becoming a medical need.
My whole goal is to help provide guidance, support and tools to allow families to ENJOY this beautiful journey they are on. I want them to look back on it with a smile and happy reflections.
Q: What kind of impact do you think this event had?

ERIN: The responses that I received were super informative. My speakers were like, wow, we got a lot of people that are following me now, more so than before. I got more inquiries for what we do, all that kind of stuff which is what I wanted. I wanted it to be informative, I wanted people to reach out to speakers or experts in whatever way they needed, to be able to help them.

Q: Can you talk about the value of having your participants now being on the Gathr platform so they can be booked?
Erin: I think it is phenomenal just having a platform there, where they can get their information out and people can book them on a bigger scale than just their website. And their information is already there so that they can be booked for whatever they are wanting to do or whatever the host is looking for them to do. You can take people from across the nation and not worry about where they are from or having to fly them in. It is a phenomenal tool for people in my industry because we can help people and connect people.
Q: Would you recommend the Gathr platform to other businesses and professionals?
Erin: If someone is looking to expand their business, get in front of the camera more, and reach more people than, yes, I would say yes, Gathr is right for them.

Q: What was unique about working with the Gathr team?

Erin: Gathr was on top of everything. They answered all my questions. They built a ticketing page that helped me promote my event and make it look so professional. Gathr took my vision and customized it to make it unique and bring forward my personality and my company in a way that I never knew could even happen. it was like a total boutique experience. The team took my hand and said yes, we will do what you want to do, and we are going to make it better and this is how we are doing to do it.

Q: Did you experience any challenges during the event?
Erin: I thought Gathr did a phenomenal job. If anything the problems were with me, like oops I forgot to turn off the mute button and I was talking, but that is so classic me for not knowing tech, so it is not even Gathr's fault.

Q: Do you want to host another event in the future?
I am excited to be able to work again with Gathr. I have so many ideas in my head now. How I am going to formulate and do different events going forward and I am really excited that I am signed up on the platform as Talent to be booked and also as a Host for my company. so I can continue to bring more education and information to growing families who want to have more children.
Gathr took away my anxiety of having to worry about how it was going to look for the attendees, how to splice in the other speakers and the videos.
All the stuff that I didn't know how to do.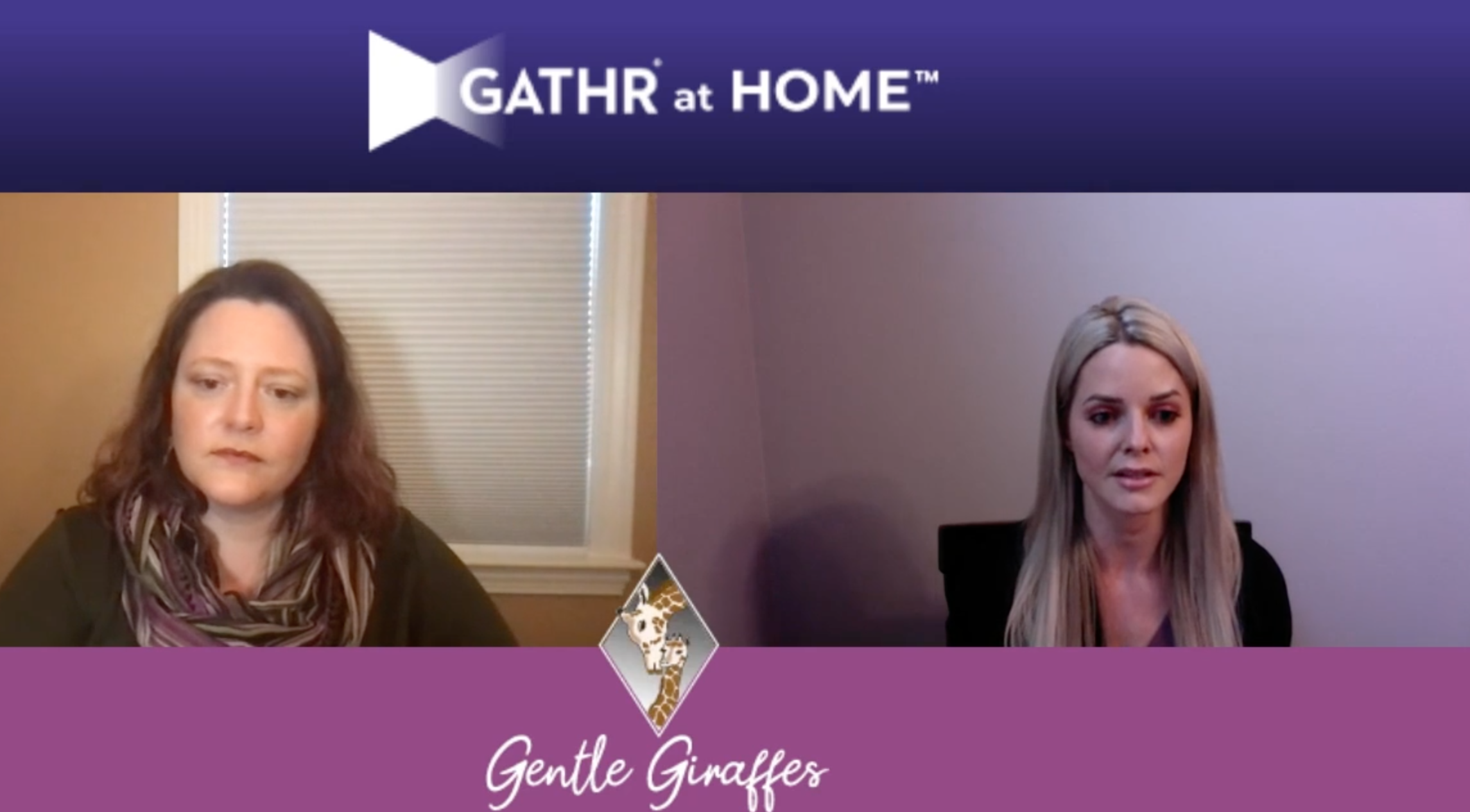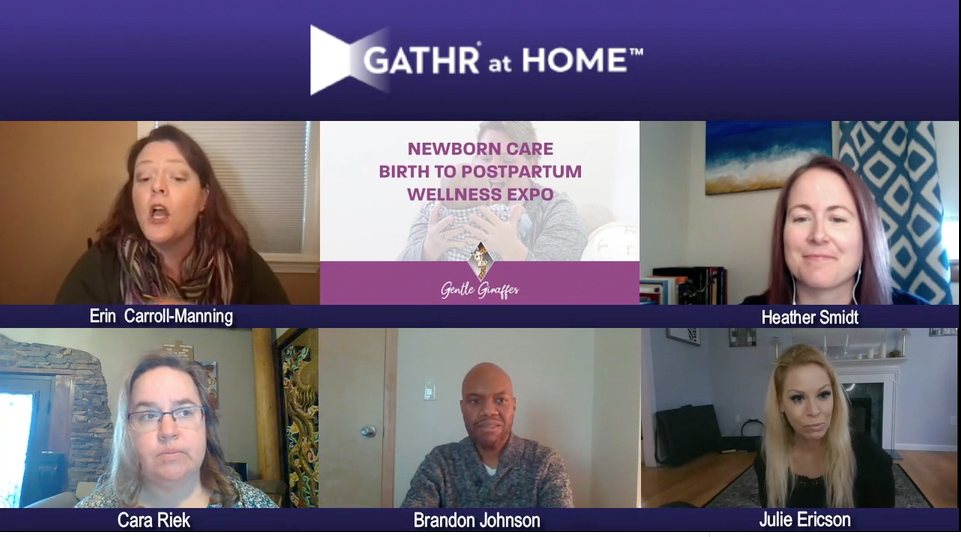 GENTLE GIRAFFES NEWBORN CARE PARTICIPANTS AND PANELISTS
If you are looking for speakers or workshops for any Pre-natal or postpartum related events, all the Expo participants can be booked from the Gathr platform. Please click on their photos or names below to learn more.
Erin Carroll-Manning. Host and Owner of Gentle Giraffe's Newborn Care and Family Services.
Dr. Linda Hurley Certified Intuitive Chakra Healer
Roxanne White- Keynote/mom influencer/Nurse Practitioner
Maria & Chuck Reiss- Essential Oils Distributor with Young Living
Dr. Julianna Allen- Pelvic Floor Physical Therapist
Ali Joyce- Real estate Agent with Jack Conway
Crystal Melanson- Certified Nutritionist, Functional Health Practitioner, & Natural Chef
Nicollet Meinert- Postpartum Doula, Newborn Care Specialist, Certified Baby Wearer & Author
Cara Riek, Family Nurse Practitioner, Lactation Counselor (IBCLC) & Specialist in Orofacial Myology (CSOM)
Heather Smidt, Acupuncturist & Reiki Master. Specializes in Fertility from conception through birth.
Brandon Johnson- Therapist. Specializes in fertility
Julie Ericson, Personal Trainer, pilates and yoga Instructor
Dr. Ariana Witkin - Pediatrician. 4th Trimester Postpartum Coach
Dr. Martin Kaplan- Pediatric Dentist. Specializes in Tethered Oral Ties.
Want to watch the entire event? Rent a copy of Gentle Giraffes Newborn Care's Birth to Postpartum Wellness Expo.