What every speaker, filmmaker, author and event creator can do to boost revenue.
A great way to earn more revenue from your virtual events is by utilizing Gathr's in-event online selling platform to sell your merchandise. Whether you're a speaker, filmmaker, author, or another event creator, your product offerings won't interrupt your event programming, and your audience can easily browse and purchase products directly from your watch page. Also, bundle your products with event tickets to boost attendance and revenue without sacrificing engagement and connection with your audience.
Live Stream Shopping is here to stay.
And it's a crowded market of online selling platforms.
From gamer streams hocking branded merch to influencers selling to faceless viewers (anyone remember QVC?), there are multiple options available but none of them gets it quite right. No matter which one you choose, you risk losing the key ingredients for a remarkable event: audience interaction through genuine connection.
By leveraging Gathr's newest feature, product sales, you can foster engagement, boost attendance, and build relationships with your community in addition to offering your products during your events - it's the best of all worlds.
Captivate your audience without commercializing your event
While all other outfits offer a one-to-many online program format (Gathr does, as well) for video shopping, Gathr is the only event and online sales platform to combine the see-and-be-seen seminar (gallery) style format, allowing you to engage directly with each of your attendees while promoting your products simultaneously. If you are an author launching your latest book, a filmmaker showing your film and giving a Q + A, a speaker delivering a keynote, or another event creator, you don't have to sacrifice audience participation to sell your products during your event. That said, your product offerings will never get in the way of your event programming because your audience can effortlessly browse merchandise, add to their carts, and checkout from inside your Virtual Event, thanks to Gathr's talent-centric watch-page experience.
What can you do to boost attendance at your next event?
Anyone who has hosted an online event knows it can be difficult to charge for tickets given how much Freemium content is cannibalizing the market. So, why not bundle your Virtual tickets with merchandise, and sell your products online? For example, if you are hosting a free book launch event for your new self-published memoir, you could bundle the free ticket with an autographed copy of your latest book ($19 MSRP), and charge $19 for the bundle. Your event is free, but, by offering your book with the ticket, you can guarantee greater attendance and boost revenue through merchandise sales, and it's also a great way to motivate people to show up for your free event. To help you simplify, Gathr keeps track of your unit costs and displays your profit for each ticket in a convenient Earnings Estimator in your event Dashboard.
Fun fact: Did you know that 90% of people who pay $19 or more for an event ticket actually show up? Below $19 audience conversion falls off a cliff…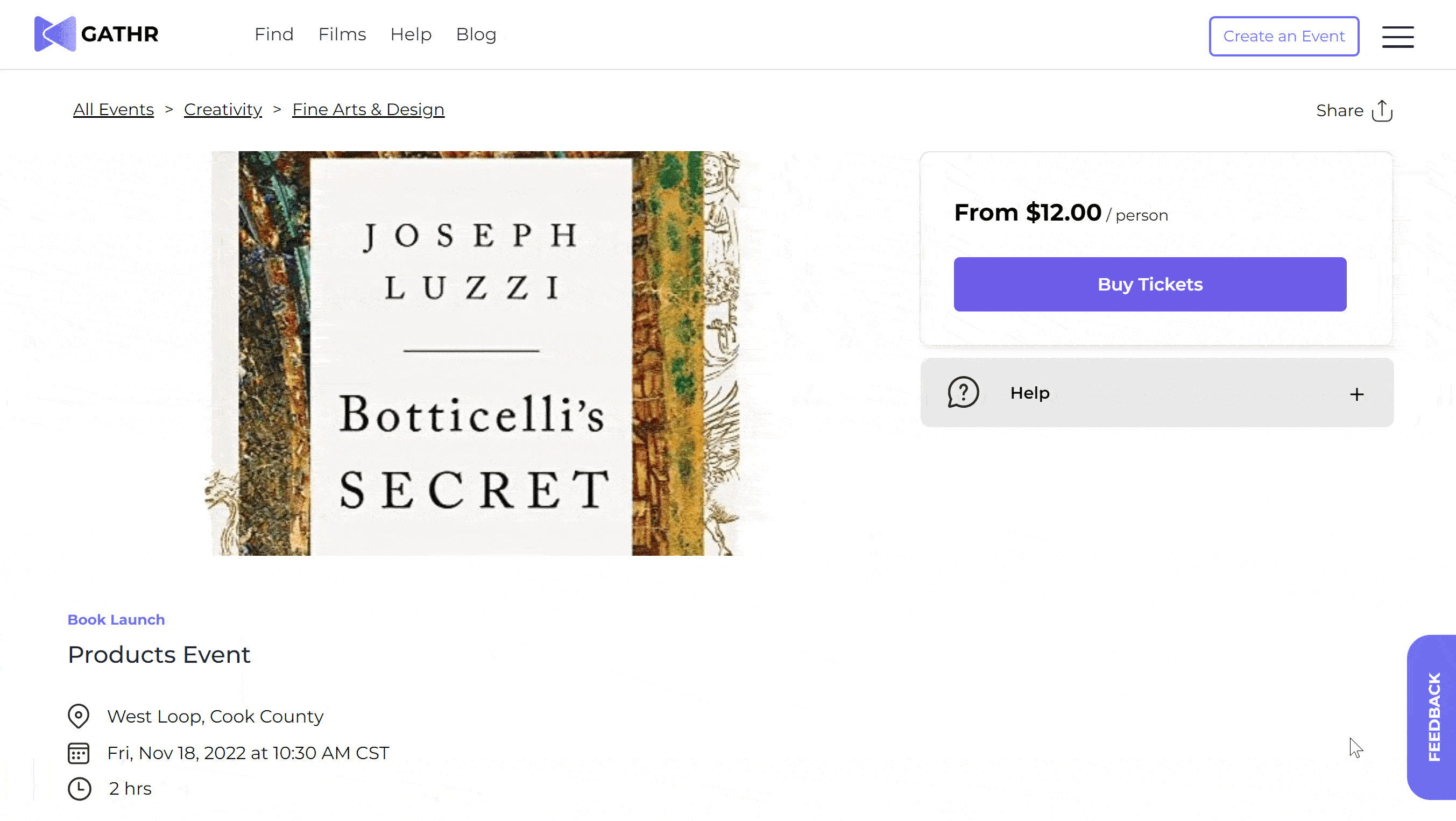 Easily fulfill orders
When you offer your products on Gathr's online selling platform, you can add/collect flat rate shipping as well as handling line items, download your list of orders, and track fulfillment from your Dashboard.
Sneak peek at next month: Soon enough, you'll be able to connect to your shipping platform (i.e. ShipStation) through our App in the Zapier marketplace for instant label printing. Also, you'll be able to get instant shipping rates/options for customers based on postal code.
Sell more during your event
Event organizers have always driven donations through their events on Gathr, and we've noticed that attendees donate up to twice as much in-event compared to at ticket checkout. With that insight, it's likely your audience, having already purchased your first edition book and ticket bundle for $19, would spend at least that much again on other product offerings during your event, multiplying your revenue by selling your products online.
Connect to your community
Foster connections with your audience and build your community with each event. With Gathr's intimate see-and-be-seen seminar-style event format you can build a direct relationship with your attendees while also offering products without interrupting the arch of your event. With a sleek product browsing, shopping cart, and checkout process, increasing your revenue will never get between you and your audience.
In fact, offering merchandise goes beyond raising revenue. Offering a physical or digital product can build more meaningful relationships among your community with your content and your event.
If you want to sell products at your events, there are many choices out there.
That said, no other platform competes when it comes to maximizing your connection with your community through well-attended, engaging events while raising your revenue through product sales.